Tuesday, 1 September 2009
Sexual Legwear
My autumn wardrobe is almost complete... Bought the Dr Marten heels. Bought a puff-sleeved cropped wool blazer a la All Saints.
I am a big fan of tights when it comes to A/W. Whether they be wool, lace, silk... Or knee high socks, with a pair of black leggings underneath for the colder days where bare thighs are a no-no, unless you want to be mistaken for a lady of the night.
Vogue has done a feature of legwear, but
I
of course, have my own version...
Number one on the list?
You might have guessed that it would be the iconic and hypnotic two tone Chanel tights...
What can I say? It complements my Autumn wardrobe to a T. The ultimate in sophistication. I'd be so damn scared to rip/snag them.
Number two on the list would naturally have to be the Gareth Pugh version. A much edgier alternative, which is interesting as they are both just essentially black and white tights! Maybe you channel Pugh as you wear them...
Number three would be the beautiful legs as seen on Miu Miu models for this A/W collection. Already in shops are these bejewelled knee high socks.
What to wear with? I would not follow the advice from
Net-A-Porter
or even the runway, unless you want to look like a grandmother who put on the wrong pair of socks. No, these babies need a simple white dress - knees on show - and some lovely platform sandals. Sorted.
A non-bank breaking option is needed (for me, more than anyone...) and these are beyond opulent. I became familiar to the brand through the model and has been a fan ever since. Soo many choices to choose from. I've always admired
Bebaroque
's tattoo inspired creations, and this one is no exception. Sheer and delicate-very sensual!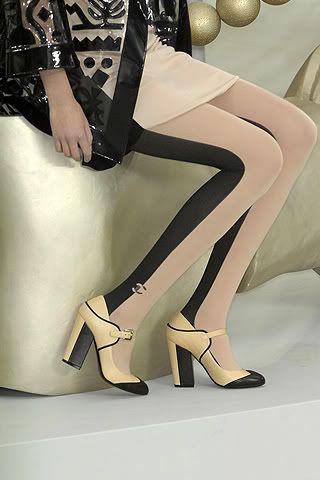 Posted by

J.W.
at 21:04