Thursday, 9 July 2009
As the title suggests, Couture Week is dead. So unimpressed I wasn't there - don't tell Le Boif but I would have rather been there for Couture Week than Men's Week! But then again, will be moving to Paris so will have plenty of Couture Weeks to come - bliss.
So, round-up. Well, it's needless to say that
Chanel
was magnifique - stunning gowns sprinkled amongst cosey and season specific suits and coats and skirts and dresses and...
More than could be said for
Alexis Mabille
- no coats in site! Or dark colours ( a few black pieces don't count!) except the odd black strip of ribbon on a creamy chiffon dress. Still, beautiful pieces and still an avid fan of the bow detai
l.
Wasn't tooo keen on
Elie Saab
. I guess it's fun to have a theme but... ALL white? Wedding much? Does he want to make bridal gowns full time? He's already done gold before but white would not have been my choice for theme number two. Although it is quite epic to have a full collection of different ideas and cuts and styles all in white - the point is they're all still
white
...consistent but a tad boring?
And finally, yes, you probably know already but
Givenchy
has done it again. Just thought I would confirm that for everyone. And in case you didn't know..where the hell have you been???
Beautiful Morroccan
and
equestrian themes(?!) - who cares if that makes sense. Gothic undertones just bring that extra edge that Tisci absolutely nails. I would post all the pieces up but..you can look at them yourself I'm sure. Instead, I will give you a taste of the best of the three themes: Morroccan, equestrian and as always, Gothic.
And oh, Tisci thought he'd also throw in some stunning nymph-like dresses.
Wednesday, 8 July 2009
Enough about me and my coat/bag fantasies - proper fashion post now.
Paris Mens Fashion Week has ended so I have sought guidance from Le Boif as to who had the best collection. I half expected him to say
Damir Doma
, as that was the only show we went to, but he suggested Mihara Yasuhiro instead. After trawling through the
S/S 2010 show
, I was pleassantly surprised - not all black!
I was much more drawn to the more tailored suits and waistcoat combo -relaxed but still maintaining its great shape.
For me, this is a great city look and the colour contrasts are really subtle and slick.
The suit is a navy/grey(?) which is a beautiful alternative to black.
Not sure about the shoes, though - I would turn the trousers up and wear with some canvas trainers...
Sadly, pretty sure Le Boif had something else in mind - probably some baggy shorts.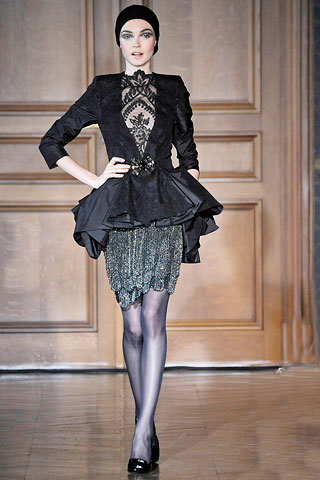 In contrast - Couture Week! Everyone knows
Chanel
is amazing so I shant bother putting any pics up, but
Lacroix
is always exciting... Not as wacky and genius as he sometimes is, but the shape and silhouette stunning none the less. Since I am loving the black atm, this collection speaks volumes to me.
If I could afford to wear this every day I'd have no qualms about not being able to sit down all day in case my jacket creases. I'm sure standing up for 16 hours tones up your leg muscles...especially if you wear sky-high Louboutins as well.
Will practice that tomorrow - shall let you know if I'm destined for a life of haute couture...
(As if you haven't noticed, still finding it difficult to place these damn pictures.. They never go where I want them to!)
Well, it is indeed only 16 degrees in not so sunny Edinburgh, but I will probably still wear sunglasses today.
As promised, some clothes to fill the page. Still on the Schouler theme, as their A/W 09 collection looks pretty cosey.
Is it too early to look at coats? Saw a Chanel black double breasted military yet feminine chic affair (long phrase) on the Rue Cambon..almost died.
Pretty sure it belongs in the Paris-Moscou 08/09 Collection but can't seem to find a picture to admire. OK, it's not in the A/W 10 either... Damn.
You should
look at the col
lection
, though - it makes you want it to blizzard like hell and speak in a Russian accent - like a Bond villianess.
Tuesday, 7 July 2009
First post of my new blog - what better way to start than with a £10,000 bag?
This must be the ultimate summer satchel. Although you could also buy a car...two cars if you're cheap.
Are crocodiles endangered species...?
I have been looking for a satchel-type bag, but I may have to settle for a pink Miu Miu one on eBay.
But that might also mean selling a Luella.
The world can be cruel sometimes...
I seem to just look at bags in my free time. Maybe I should divide my time between all the clothing/accessory categories.
OK - Will discuss clothes tomorrow. Although it is cold here in Scotland right now, so may want to look at Autumn clothing.
You
could
just get the boring suede one... but is there a substitute for a reptile's back?