Wednesday, 8 July 2009
Serious Fashion
Enough about me and my coat/bag fantasies - proper fashion post now.
Paris Mens Fashion Week has ended so I have sought guidance from Le Boif as to who had the best collection. I half expected him to say
Damir Doma
, as that was the only show we went to, but he suggested Mihara Yasuhiro instead. After trawling through the
S/S 2010 show
, I was pleassantly surprised - not all black!
I was much more drawn to the more tailored suits and waistcoat combo -relaxed but still maintaining its great shape.
For me, this is a great city look and the colour contrasts are really subtle and slick.
The suit is a navy/grey(?) which is a beautiful alternative to black.
Not sure about the shoes, though - I would turn the trousers up and wear with some canvas trainers...
Sadly, pretty sure Le Boif had something else in mind - probably some baggy shorts.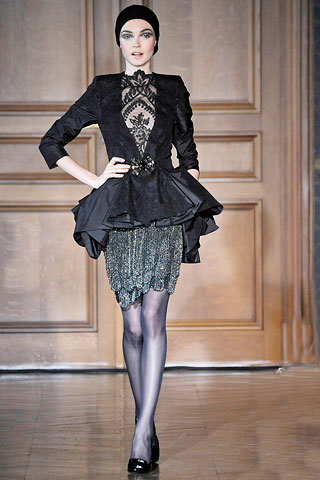 In contrast - Couture Week! Everyone knows
Chanel
is amazing so I shant bother putting any pics up, but
Lacroix
is always exciting... Not as wacky and genius as he sometimes is, but the shape and silhouette stunning none the less. Since I am loving the black atm, this collection speaks volumes to me.
If I could afford to wear this every day I'd have no qualms about not being able to sit down all day in case my jacket creases. I'm sure standing up for 16 hours tones up your leg muscles...especially if you wear sky-high Louboutins as well.
Will practice that tomorrow - shall let you know if I'm destined for a life of haute couture...
(As if you haven't noticed, still finding it difficult to place these damn pictures.. They never go where I want them to!)
Posted by

J.W.
at 21:44